Tatkala tengan bz gegila menyiapkan baju kumpulan mendua, I mendapat panggilan dari JOE. Dia ckp ada artis nak tempah baju dengan RIZMAN RUZAINI dan memberitahu harga setiap baju RM****… then, I pon exited nad keep on bertya who's the artis? Dia ckp surprise n artist u nak datang tgk I punya collection..i ckp ok.. I kat luar masa tu.. bila I balik guess who infront of my house???? VERNON KEDIT- managing director of NING & ASSOCIATES.. I'm like.. ok.. I pon jemput diorg masuk.. I tya baju untuk siapa… Vernon said ..its for NING,NIKKI and YANIE.. OMG!! I terus setuju.. what a great opportunity! Concept yang diorg nak ala2 Edwardian style.. of course the color I suggest black n white! Its RIZMAN RUZAINI's trademark! Kali ni diorg nak ketiga-tiganya Nampak DIVA… fabric yang akan digunakan duchess satin, French lace, raw silk, wool dan border lace.. so marilah kita lihat hasilnya.
Ning-the truly diva, draping panel from back to front with mermaid cut. French lace draping @ front top panel with Swarovski diamond and detached able French collar at the shoulder. The huge hat idea from JOE.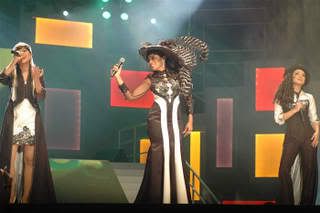 Nikki- a wool jacket with detached able flair. A tripe running stitch detailing at every panel. Dress dalam duchess satin with patched French lace + Swarovski diamond detailing.
Yanie- a jumpsuit made from wool attached with long flair @ the back. On top- raw silk shirt . dia lebih kepada androgynous look. Hat by JOE.
THE TEAM= aunty stella, nikki, RIZMAN, ning, RUZAINI, yanie, azmi